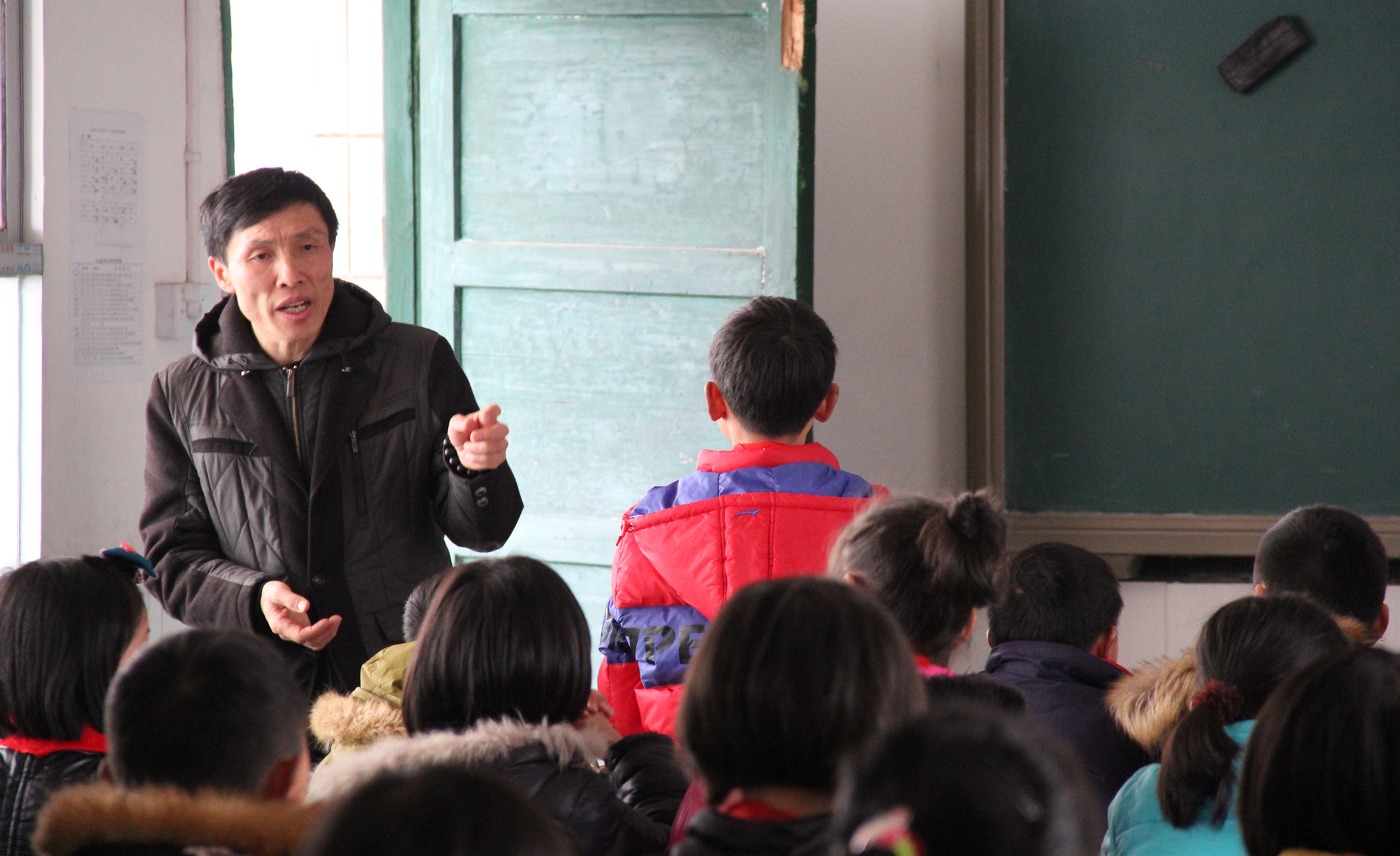 We often see or even witness touching stories about rural teachers. The protagonist may be portrayed as a model teacher or an exemplary person due perseverance and dedication. Rural grassroots teachers are the cornerstone of rural education in China, and for this they should indeed be honored. While praising them for sticking it out in dedicating themselves in quiet professionalism, they also need our support. First, we need to realize that the contribution of rural teachers is far more than simply an act of selfless dedication.
LONG-TERM COMMITMENT TO THE COUNTRYSIDE
There's a common element to all these touching stories. In this day and age, fewer and fewer people act like this. On January 6 this year, Ren Youqun, director of the Department of Teachers at the Ministry of Education, provided figures at a headteacher's leadership forum: rural teachers now number around 2.9 million. Around 500,000 are junior middle school teachers and only 50,000 or 60,000 are high school teachers. Precious few works in special education and kindergartens.
When the country released its Rural Teacher Support Plan (2015-2020) in 2015, reports indicated there were 3.3 million rural teachers in China. Differences between urban and rural teachers in terms of their establishment, professional status, and working conditions are hindering teachers from taking root in the countryside. The above-mentioned Support Plan specifically put forward a series of measures aimed at establishing a mechanism for talent recruitment and retention. Five years on, it appears we need to redouble our efforts.
Many social organizations, including Green and Shine Foundation, are also making efforts to this end. With its range of supportive projects, Green and Shine provides financial assistance to rural teachers and their children, as well as the conditions for vocational training and lifelong education. By cooperating with county (city) education bureau, Green and Shine also has a "Happy Gardener Program." Mental health is a priority for the organization, as well as teachers' level of contentment and sense of professional identity.
PAY ATTENTION TO STUDENTS' PERSONALITY DEVELOPMENT
Fan Ying, deputy chairman and secretary general of the Green and Shine Foundation, once said of the children in rural China, "Teach bravery so that the child will be strong and temper their heart; teach knowledge so that the child will understand the world around them and explore the unknown; teach morality, so the child knows everyone is equal and cannot be violated; teach love so the child will know the value of life, be gracious with others and dedicate themselves to others."
This is an incisive elaboration of the "humanistic teacher" mentioned in the Book of Rites. In today's rural reality in China, most children will stay in the countryside. How to instill in such children a grounded personality and the basic ability to make a living and grow?
The first is to keep more students from dropping out of school. The second is to teach children to under-stand their hometown, cultivate self-identity, and learn to coexist with the environment.
Many of the teachers who were selected for Green and Shine's Nanshi Program used natural and cultural resources in their area to design natural or local courses according to local conditions. Some teachers compile traditional ethnic customs into school-based textbooks and integrate them into daily teaching practice; some teachers take students to learn traditional handicrafts, which not only promotes the inheritance of intangible cultural heritage, but may also provide a livelihood in the future.
There is also the problem of left-be-hind children. Statistics from the Ministry of Civil Affairs show that as of the end of August 2018, there were 6.97 million left-behind children in rural areas. A principal of a primary school in Sichuan once said: "70% or 80% of our students are left-behind... Especially in rural schools like ours, family education really does not play a big role. In some families, even if the parents are at home, the children behave like left-behind children because no one is really taking care of them." In these places, teachers have to be not just promoters of learning, but also caring and considerate guardians, and sometimes elders concerned for the behavior of society's youth.
VALUING THE INHERITANCE OF CULTURAL TRADITIONS
The best traditional culture plays an important role in anchoring the spiritual core of the Chinese people in today's diverse world. This is the backdrop against which the next generation needs to learn about traditional Chinese values, world perspectives and human values. The education industry is implementing this concept to all stages of school education and throughout the process of talent training.
In many parts of China, especially ethnic minority areas, rich traditional folk or ethnic culture plays an import-ant role in livelihoods. Like all contemporary intangible cultural heritage, it is at risk of being lost to modernity. In the protection and inheritance of these cultures, local schools and teachers play an active role, taking on the responsibility of educating the public and stimulating awareness. They compile teaching material of local traditional culture and lead students in gaining knowledge, visiting cultural sites, or practicing their own unique dance, music or craftsmanship. Some teachers educate bilingually, or establish minority language courses to do their part in the sustainability of small languages.
FOCUS ON INNOVATION
The famous educator Tao Xingzhi wrote in "First-Class Educators" that in his opinion, the best teachers were those who dared explore new ideas, had a creative spirit and could navigate boundaries fearlessly. He urged teachers to look deep when creating, and look far when exploring. In short, courage is essential for creative endeavors.
Our rural teachers are not lacking in the courage to innovate, and they make this clear in curriculum design, teaching models and teaching methods. One teacher in Gansu province felt the history represented in the textbook was too far removed from local students, and designed a lesson for students to explore the history of their hometown by visiting village ruins and interviewing the elderly. One teacher in Inner Mongolia was always looking for breakthroughs, not only promoting children's reading (later establishing teacher development camps, connecting well-known local teachers and large groups of rural teachers in urban and rural areas), but first setting up group teaching with the aim of bringing in some degree of classroom autonomy and giving the students some choice. These innovations are not only due to the lack of teaching resources in rural areas, but also because rich natural resources are conditional on circum-stance. A lot of these rural schools are small, which makes this model successful. Most importantly, these rural teachers are invested in what they are doing, which gives us the support needed to make it work.
The Green and Shine Foundation supports continuous learning for rural teachers by way of three types of project: financial support, online learning, and field study visits.
Green and Shine Rural Teachers Program aims to promote teaching ethics and best practice educational methods and innovations. Originally known as the Nanshi Award, it was initiated by Chinese scholar Nan Huaijin before his death and jointly established by the Green and Shine Foundation and the Nan Huaijin Culture and Education Foundation in October 2012.
Between 2013 and September 2019, four program cycles have been carried out, attracting applications from 613 rural teachers nationwide of which 80 were shortlisted and 60 selected. The fifth selection season has now been launched.
For more information see: www.greenandshine.org
Source: "Creative 2030" Special Edition